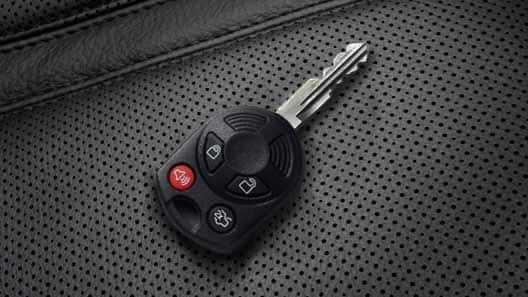 For parents of first-time drivers, this feature is a game-changer and a real boon to any vehicle. Your knowledgeable staff at Desjardins Ford Ste-Foy will be happy to talk with you about this important safety feature.
Ford MyKey, standard on almost all Ford models, is a critical part of our commitment to keeping first-time drivers safe. MyKey is literally a key custom programmed with safety features you feel are most appropriate.
MyKey Non-Configurable Features
There are a number of features that are non-configurable within the MyKey system. As part of Ford's sincere commitment to driver safety, once you enable the MyKey system on your vehicle, these features cannot be overridden:
Safety belt reminder with repeating alarm
Until the safety belt on both driver's side and - if appropriate - passenger's side seats are fastened, a gentle but repeating alarm will sound. The vehicle's audio system will also be muted until all appropriate seat belts are fastened.
Early activation low fuel light
When the vehicle runs low on fuel, the warning light activates earlier, allowing the driver more time to stop safely and refuel before reaching a critical refueling point.
If your vehicle is equipped with satellite radio, adult content is restricted.
Driver Assist Features forced on
If your vehicle is equipped with the Ford Co-Pilot 360 feature, these features will be forced on:
Pre-Collision Assist With Automatic Emergency Braking
Scanning the road ahead, this feature can alert you to potential collisions with vehicles or pedestrians it detects in your path. If an object is detected a warning flashes on the windshield and an alarm sounds. If you are alerted and take no action, the brakes are applied automatically.
BLIS (Blind Spot Information System) with Cross-Traffic Alert
Active even when you're not moving, radar systems on either side of your car detect when a car is present and in your blind spot. A light comes on the corresponding side-view mirror to alert you to the vehicle you may not be able to see. Cross-Traffic Alert warns you a moving car is coming from either side when you're backing up with three alerts: a light on the corresponding side-view mirror, a chime, and a message in the message sensor.
Adaptive Cruise Control with Stop-and-Go
Functioning like cruise control with one exception, adaptive cruise control maintains a comfortable preset distance between you and the vehicle in front of you. In heavy traffic, your vehicle will also slow down to a stop should the vehicles ahead of you come to a stop. When traffic picks back up, your car will automatically begin to follow.
This feature keeps you in your lane, especially in a moment of distraction, by constantly scanning your positioning within your lane and alerting you should you deviate from it.
Auto High Beam Headlights
A standard feature, the auto beam headlights can sense poor lighting conditions and automatically turn on to increase visibility. A real plus for highway driving, it also senses when another vehicle is coming from the opposite direction and dims automatically.
MyKey Configurable Features
If your model is equipped with these additional features, the administrative MyKey can be set to:
When the driver reaches the speed you select, the display will show warnings followed by an audible tone. The driver will not be able to override the set speed by using cruise control or fully depressing the accelerator pedal.
Set audio systems to a maximum volume of 45%
In an effort to keep distraction to a minimum, should the MyKey driver try to exceed the volume limit, a message will show in the display.
Set the following systems to Always On:
Advance Trac or traction control
This technology was built to navigate the harshest road conditions. An electronic stability system that helps the driver navigate through tough terrains like ice, snow, gravel, and dry pavement, Advance Trac is designed to enhance stability in your vehicle.
911 Assist or Emergency Assist
A SYNC system feature that uses your Bluetooth-paired and connected phone to initiate a 911 call directly to local responders, even if you are unable to reach the controls. After relaying details of the accident and your location, the 911 Assist will open the line so you can speak directly to 911. If you're unable to respond, emergency first responders will be routed to your vehicle automatically.
This simple but effective feature restricts incoming texts and phone calls while driving.
With all these safety features at your fingertips, it's easy to see why we love Ford MyKey. Let one of our professionals at Desjardins Ford Ste-Foy show you how Ford keeps drivers safe.