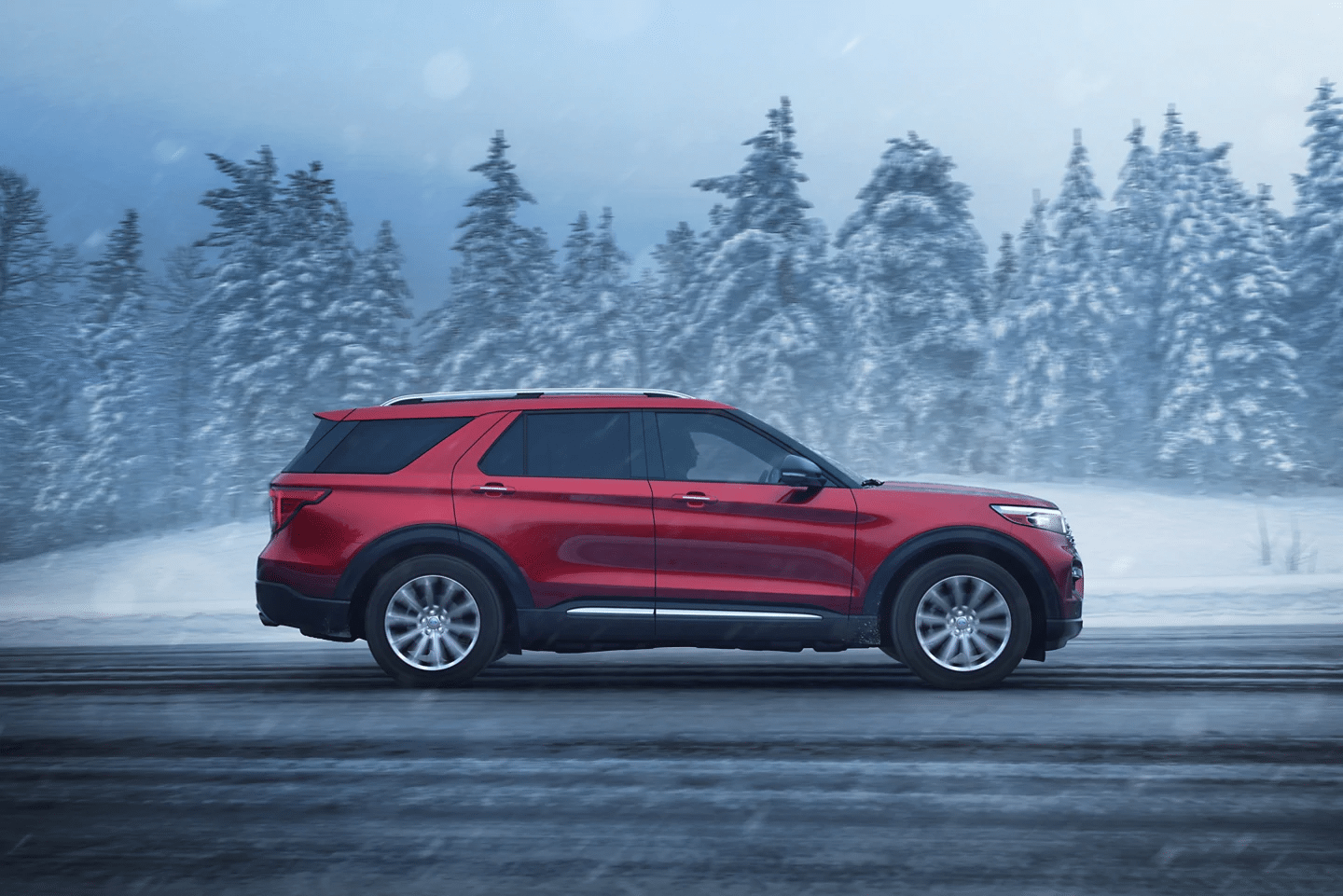 Our sales team at Desjardins Ford Ste-Foy understands the confidence in knowing your vehicle is going to reliably get you all the places you need to go.
Our 2021 Ford Explorer, long a fan favorite, provides plenty of reasons for you to enjoy a trip to the soccer field as much as you enjoy a journey through rugged terrain on a road less taken. With roomy interiors and lots of cargo space, innovative technologies to keep you connected, and life-saving safety features, you'll wonder why you hadn't thought of the Explorer before!
Interiors
Now more than ever, we know that our vehicles are an extension of our homes. With increasing work and family expectations and responsibilities, many of us spend more time in our vehicles than we do at home.
With that in mind, Ford wanted to ensure you had plenty of room to get comfortable. Along with seating 7 comfortably, the adjustable interior provides customization that others don't. You don't have to decide what will fit - take it all!
The Twin-Panel Moonroof adds another layer of comfort, especially for the backseat crew, which generally likes to make their opinions known! The twin-panels let everybody catch a breeze or see the sky at the touch of a button. Freedom never felt so good!
Available third-row PowerFold seats provide the room you've been seeking for both passengers and cargo. With the seats upright, you've got plenty of room for seven; with the seats down, you can pack everything you need.
Technologies
Now more than ever, we know we've got to be able to stay connected! The 10.1-inch LCD capacitive portrait touchscreen means you've got everything you need right at your fingertips. Use this display just like your smartphone to navigate, play podcasts, call your friends, and more.
We didn't want you hustling around trying to find phone chargers! A favorite feature, especially for our tech-savvy folks, is the benefit of cord-free available wireless charging ports in the center of the dash. Everybody is happy with up to nine different powerpoints, including USBs, USCs, 12V, 110V, and regular plugs, too. If you can't charge it in this vehicle, you don't need to charge it!
You'll never miss another beat with our available B&O Sound System by Bang & Olufsen. With 14 speakers placed so that your tunes are coming at you in surround sound, this 980-watt system is available with our Premium Technology Package.
Safety Features
The Ford Co-Pilot360 assures our drivers that every effort has been made to ensure their safety and the safety of their passengers. This suite of driver-assistance technologies has some of the most technologically advanced options on the road today. Ask your sales team member which of these features come standard on your vehicle and which can be added:
Lane-Keeping System. We all know that we need to keep our eyes on the road at all times. Most of the time, that's easy to do, but every now and then distractions can't be avoided. If our sensors detect that you're drifting out of your lane, you will be alerted. If no corrective action is made, we will gently keep you within your lane.
Intelligent Adaptive Cruise Control. This favorite safety feature is like cruise control taken up a notch. Not only do you get to set the speed you'd like to maintain, but you also get to determine the distance you'd like to keep between your vehicle and the traffic ahead. Once these preferences are selected, our sensors do the rest.
Blind Spot Information System. No more swiveling and turning in your seat to try and see if you have a car in your blind spot. Our sensors detect the presence of a vehicle in your blind spot and alert you with a small light on the corresponding side-view mirror. When the light is on, there is a vehicle in your blind spot. When the light is off, you're clear to change lanes. It's really that easy.
Automatic High Beams. You may not think automatic high beams are a safety feature. If you've ever been blinded by oncoming traffic, you know how frustrating that can be. Our sensors detect levels of ambient light and adjust accordingly. If you're traveling in a dark, shadowy area, high beams are automatically turned on. If sensors detect well-lit, heavily trafficked areas, the high beams are automatically turned off.
About Us
We've seen a lot of changes this year; however, we can count on one thing that remains the same - our commitment to our friends and neighbors in Ste-Foy. We know what you expect in a top-quality vehicle and in our dealership, and we work hard to deliver.
Come visit us today and see all the bells and whistles our 2021 Ford Explorer has to offer. Be sure to ask our sales team to walk you through all the new features we've added to the 2021 model. You'll be so glad you did!