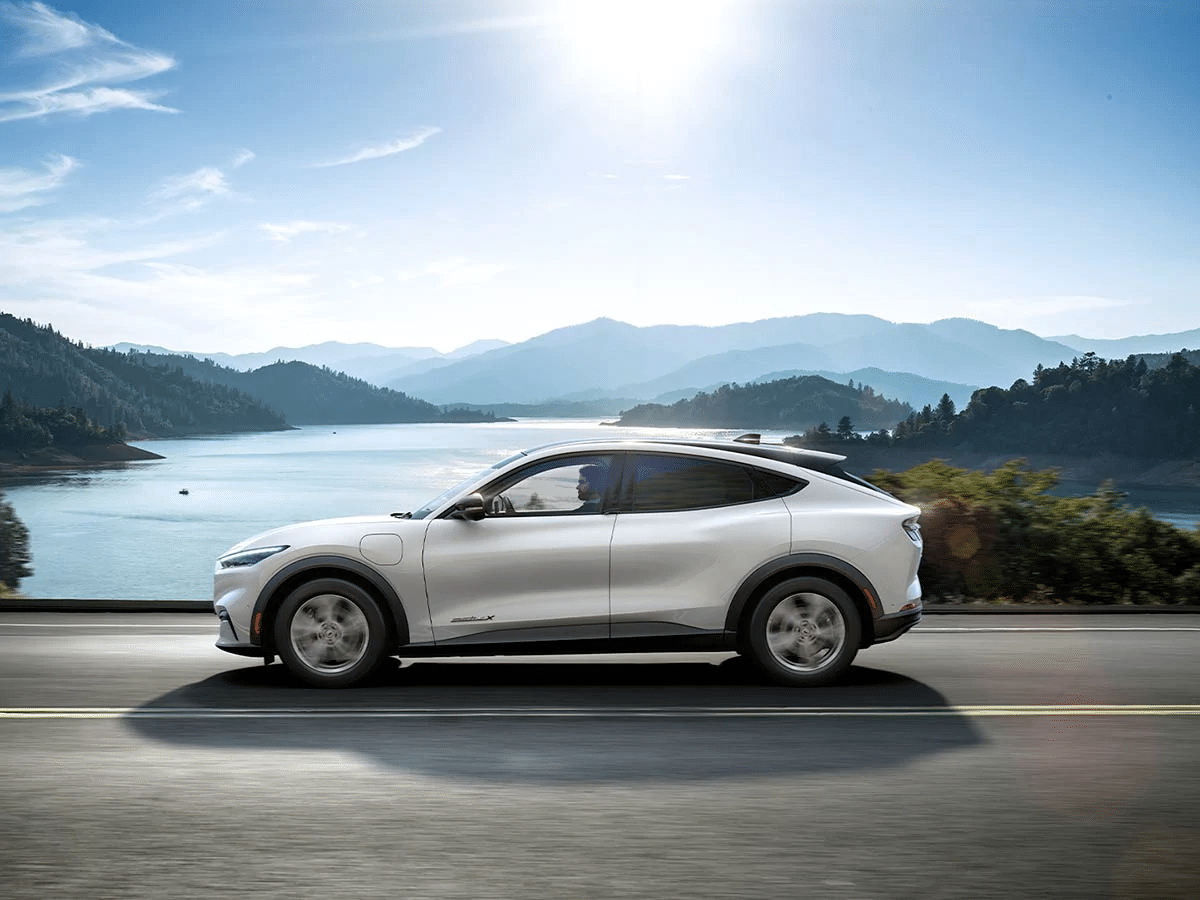 Ford's Mustang has gone all-electric. The Mustang Mach-E blends style and power to create a vehicle unlike any other.
Desjardins Ford Ste-Foy is proud to serve the greater Ste-Foy area. Our team is here to keep you up to date on new Ford releases and let you know how to reserve yours.
The Mach-E is a sport utility vehicle with the heart of a muscle car. At first glance, the Mach-E may look like a regular luxury SUV, but the vertical rear lights and strategically placed Mustang logo prove it's far more. This combination of SUV structure and Mustang details will turn heads everywhere you go!
The Specs
The Mach-E is available in five trim models. Each model has the same performance structure but contains unique elements that set it apart.
Estimated 355 km (RWD Model)

0-60 mph in 5.5 seconds

RWD or AWD

18" wheels

This model is equipped with Ford's finest safety features.
Estimated 475 km (RWD Model)

0-60 mph in 4.8 seconds

RWD or AWD

19" wheels

A step up, this version offers more luxury, performance, and technology.
California Route 1 - $63,745

Estimated 475 km (RWD Model)

0-60 mph in 6.1 seconds

RWD

18" wheels

The RWD allows for longer trips with less worry.
Premium First Edition - $71,245

Estimated 425 km (AWD Model)

0-60 mph in 4.8 seconds

AWD

19" wheels

This is a limited-edition model that features unique color and stitching, Premium First Edition scuff plates, brushed aluminum pedals, and red brake calipers.
GT Performance Edition - $82,995

Estimated 375 km (AWD)

0-60 mph in 3.5 seconds

Permanent Dual Motor AWD

20" wheels

This model is a true Pony and has earned its GT Performance Edition badge.
Without a fuel combustion engine, the Mach-E is powered by 75.7 kWh lithium-ion batteries or the longer-lasting 98.8 kWh option. On a fast-charging station, it will take about 40 minutes to recharge the vehicle up to 80%.
Your Mach-E arrives with a Ford Mobile Charger that works with both 120V and 240V outlets. If you are looking for a stronger, faster charge, you can opt for an at-home charge station.
The Mache-E is available with eAWD (electric all-wheel drive). Like mechanical AWD, eAWD creates smooth handling and high performance. Unlike the mechanical system, the secondary axle of an eAWD vehicle can provide a boost of power.
Mach-E Exclusives
All versions of the Mach-E come standard with Magneride suspension, which creates superb stability and a smooth ride.
As an all-electric vehicle, the Mach-E is naturally quiet. To enhance the driving experience, there are three drive modes:
Each selection adjusts the interior sound, lighting, and responsiveness so that you can drive the way you feel.
As an SUV, the Mach-E's cabin is spacious. The sleek design replaces the need for over-the-top accents and creates a sense of openness. The roof is replaced by a sky window, which fills the cabin with light.
The interior of the Mach-E is exceptional. The interior is lined with what looks and feels like leather but is free from all animal-sourced materials. This special synthetic material is a secret of Ford.
The heart of the interior is the 15.5" touchscreen, which features SYNC 4A. This interface uses advanced technologies to create a personalized driving experience.
Part of the Mach-E's unique tech abilities is its over-the-air updates. Updates to the vehicle's computer system for quality and capability can be downloaded wirelessly.
By downloading the FordPass app, you can create a profile that will transfer over to your Mach-E. Each profile has customizable settings so that you can ensure every drive is just the way you like it.
FordPass also lets you stay connected to your Mach-E by monitoring the vehicle's charge level and using your phone as a key. When on the road, you can use the app to locate the nearest charging station.
Tucked behind the steering wheel is a 10.2" ultra-flat screen display driving information so you can easily keep track of speed, charge, and more.
The second-row seats lay flat, which creates a large cargo space. A bonus of being an electric vehicle is the front storage space. The front trunk is water-resistant and washable. There is even a drain that allows for easy cleaning or to use the space as an ice-filled cooler.
Ready For the Mach-E
The Mach-E will be rolling into Canada in fall 2020, with some versions debuting in 2021. Thanks to government incentives, you can save up to $8,000 in Quebec and $3,000 in British Columbia.
The Mach-E's legacy could be long-lasting, but there is pride in driving a future classic from the start. Let Desjardins Ford Ste-Foy be your pit crew and reserve your Mach-E with us today.