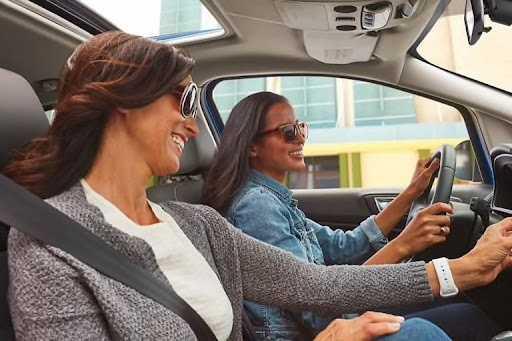 Ford has long been on the leading edge of technology. We want our vehicles to utilize the latest and greatest innovative technologies to make our lives more convenient and safe.
At Desjardins Ford Ste-Foy, our team is consistently amazed at the new technologies we employ in our vehicles. From Ford MyKey to the FordPass App and the most incredible safety features on the road today in Ford's Co-Pilot360, Ford technologies change the way we drive.
Ford MyKey
As parents, it can be difficult to see your child take their first solo drive. We walk a fine line between hovering and using available tools to help keep them safe. Ford MyKey is a great place to start for inexperienced drivers.
MyKey is a keyfob with configurable and non-configurable features that encourage your new driver to make responsible choices on the road.
Non-Configurable Settings
Once MyKey is enabled, the admin key cannot adjust the following settings:
The safety belt minder will be turned on, and the audio system will be muted until all belts are fastened.

When running low on fuel, the low fuel/charge light will activate at 55 miles (instead of the industry standard 25 miles) to allow your driver to make safe and well-lit refueling choices.

If your vehicle has driver-assist technologies, they'll be turned on.

If your vehicle has satellite radio, adult content restrictions are turned on.
Configurable Settings
The administrator can change these settings. This allows you to talk through these settings with your young driver and allows you a chance to reward them for demonstrating responsibility behind the wheel. Features include:
Set a vehicle speed limit. When the driver reaches the set speed, the display will show warnings and emit an audible tone. The driver will not be able to override this restriction.

Set speed minders so that your driver is aware when they reach select speeds.

To keep distractions to a minimum, set the audio system to a max volume of 45%.

Enable "Always On" for Advance Trac or traction control, 911 Assist, Emergency Assist, or the Do Not Disturb feature.
Talk with your sales team member about all the ways Ford MyKey can help inexperienced drivers (and the people who love them most) stay safe. It's a conversation worth having.
FordPass App
Anyone who purchases a recent model Ford has complimentary access to the FordPass App. Download the app on your smartphone and stay connected with your vehicle even when you're apart!
You'll have instant access to remote features like start/stop, lock/unlock, schedule a start, locate vehicle, and vehicle status check. You can also receive important vehicle health information like fuel and oil levels, service history, and warranty details.
Take the hassle out of scheduling regular maintenance appointments by scheduling your appointment directly from your app. It saves time, and you'll get emailed reminders about your appointment time.
FordPass Rewards is an easy way to become a member of an exclusive club of Ford owners. Once you sign up for FordPass Rewards, you can earn points for service or purchases at participating Ford dealerships. Then, you can use those accumulated points for discounts on service maintenance or even put those collected points toward the purchase of your next Ford!
It's worth knowing about the FordPass App when you purchase your vehicle. Access to vital vehicle information when you need it is invaluable!
Ford Co-Pilot360 Technologies
Safety is our priority. Ford has used the most innovative technologies to keep you and your passengers safe. With these driver-assistive technologies at work in your car, you'll feel like you have a co-pilot helping you navigate your journey all the time. Safety features include:
Blind Spot Information Systems. When a vehicle enters your blind spot, we alert you. You don't have to take your eyes off the road for even a few seconds. Just trust us to let you know when the lane is clear.
Lane-Keeping System. If you veer out of your detected lane of traffic, we alert you. Our system can also detect when you're showing signs of drowsy driving, like veering out of your lane or dropping off the edge of the road. When that occurs, we can help keep you in your lane and recommend that you take a caffeine break!
Pre-Collision Assist. Traffic (and pedestrians) can be unpredictable. Our system scans the road ahead, and when it detects that traffic is not moving as quickly as you are, it warns you to slow down. It can also detect when something or someone steps out in front of you. If you don't have time to react, our system activates Emergency Braking.
Auto High-Beam Headlamps. Our headlamps detect ambient light and operate your high and low beams accordingly. You'll always have the light you need to see down the darkest roads. Plus, you'll never blind oncoming traffic again! It's just one less thing you have to think about!
Talk with your sales team member about which features are available on the model in which you're most interested. You won't regret it.
About Us
Our team at Desjardins Ford Ste-Foy will be the first to admit these technologies aren't providing us with the flying cars we all thought we'd have by now, but they're super close!
Come visit us on Avenue Watt and see all the available Ford technologies inside the models you love most. You'll be impressed with all the ways Ford makes life easier!