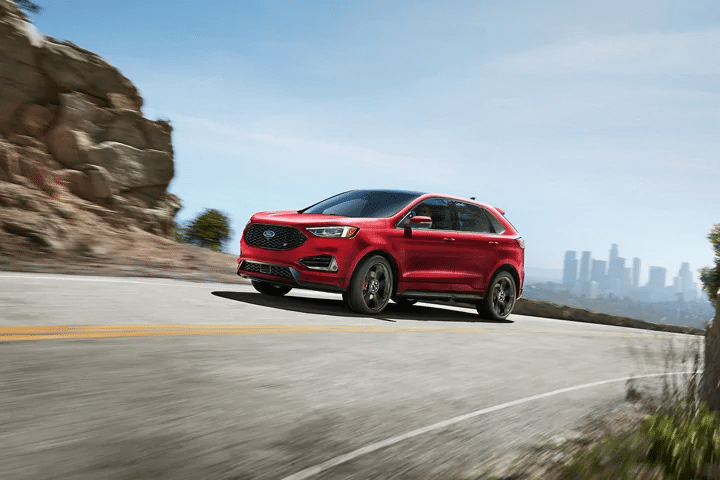 Doesn't that sound like that great old song, "If you like pina coladas…"? Lately, we've all been thinking about planning an escape, like the characters in that song! Our team at Desjardins Ford Ste-Foy is no exception.
Thinking about taking the road less traveled? Are you feeling down deep in your bones that you need a change of pace? We understand and highly recommend you look at a 2021 Ford Escape. Its roomy interiors, fun features, and safety features that make a real difference when you're out on the road will have you packing your bags!
Interiors
With five trim levels to choose from, the Escape makes a statement no matter where it goes. Choose the trim and seating package that best fits your needs. From comfortable fabrics to supple leather, all models have comfort in common.
The console is engineered with intuitive features like the 12-inch portrait touchscreen - the largest in its class. With a touchscreen this large, you can see all your options and make quick decisions - all at your fingertips.
With room to spare, you'll appreciate the 39.2 cubic feet of cargo space available for all your most important things. In addition, 60/40 split rear seating allows you flexibility and versatility when you're packing for your getaway.
No matter how much you need to load, the available hands-free liftgate makes it easy. Just wave your foot under the back bumper and the liftgate opens. It's ideal for those times your hands are full and you just need that extra help.
Features
Get the connectivity you crave with SYNC 4, which combines voice recognition, software updates, SiriusXM with 360L, and the seamless connection with your smartphone that you need.
Our rotary gear shift dial was a simple redesign that made the console so much more convenient. Now there's more space for cup holders, bin space, more imaginative storage areas, and a USB port where you need it most.
The complimentary FordPass App makes connecting with your vehicle so easy. Features on the FordPass App include:
Remote Start/Stop

Remote Lock/Unlock

Schedule a Start

Find Your Vehicle

Vehicle Status Reports



If you're looking for a Panoramic Sunroof, look no further. Ask your sales team member to talk to you about installation options so that you can enjoy a cool breeze, the warm sunshine on your face, or a starlit drive - all at the touch of a button. You'll feel like you're on vacation - even when you're not.
Safety
Safety is never a luxury. Safety isn't even a convenience. Your safety is a priority. At Ford, our innovative safety features make a big difference in your confidence level - no matter where your journey takes you.
The Ford Co-Pilot360 technologies offer driver-assist features that make you feel you've got an extra set of "eyes" helping you navigate. No matter how technical and innovative these systems are, we want to emphasize driver attention and focus. Nothing can replace a responsible and responsive driver. Some of our safety features include:
Blind Spot Information. When a vehicle enters your blind spot, we alert you. It's that simple, but it means a lot when you're in heavy traffic that demands your attention. Keep your eyes on the road and let our systems help you "see" when you're clear for a lane change - and when you're not.
Lane-Keeping System. If you veer from your detected traffic lane, our system reminds you to refocus and recenter on the road ahead. If you are unable to recenter, our system gently guides you back and maintains you in the middle of your lane.
Pre-Collision Assist with Automatic Emergency Braking. Traffic makes abrupt stops and can slow down without much notice. Our system constantly scans the road ahead to ensure you're always aware of what's coming next. If our system detects that traffic is slowing down, we alert you to slow down, too. If it's happening too quickly for you to react, our system activates Emergency Braking to help mitigate damage.
Please ask us about all the ways Ford is keeping you safe while you're out on the road.
About Us
Your team at Desjardins Ste-Foy is ready to help you escape this summer in an Escape! We want to listen to all your car-buying priorities and help you think through all your options.
If you're looking to escape, look no further. With roomy interiors, features that make driving fun, and safety innovations to ensure your safety and that of your passengers, come check out an Escape.
Come visit us on Avenue Watt. We want to help plan your escape this summer - pina coladas or not! So come take a test drive. Kick the tires. Ask all your questions. Then, pack your bags! We know you won't be disappointed.