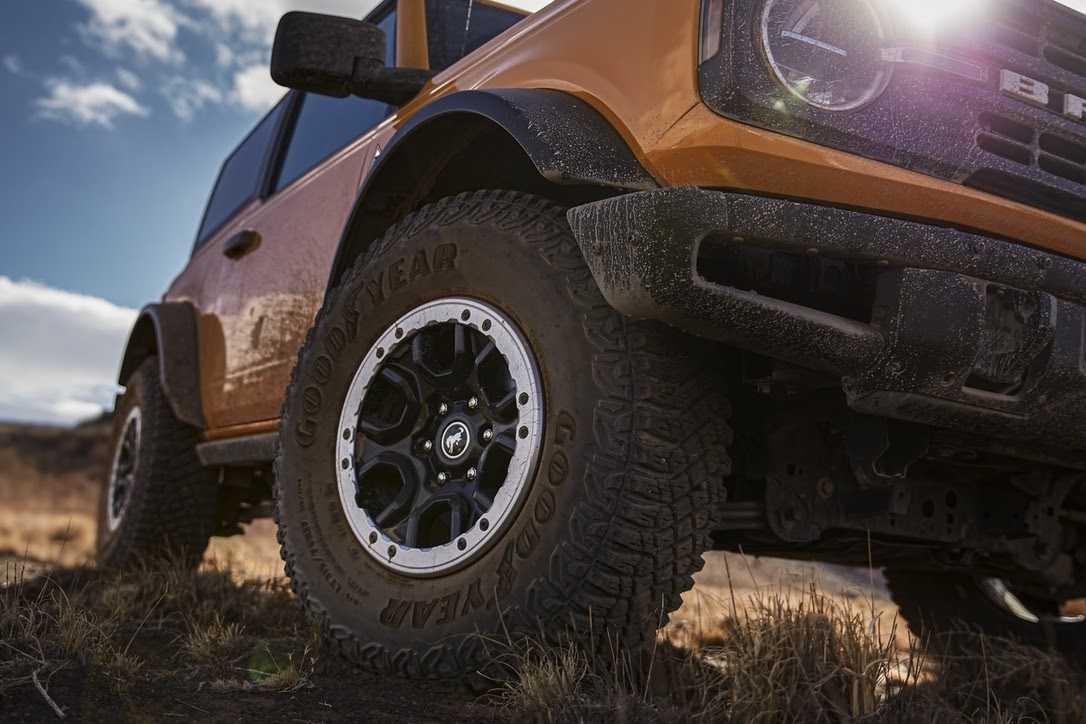 When you see a social media post stating a Bronco was spotted, you know it's a unique vehicle. Whether you are an enthusiast of Broncos or a fan of the ultimate SUV, the 2021 Ford Bronco is a long-awaited choice that merges the past with modern design. At Desjardins Ford Ste-Foy, we know our customers will love the Bronco's combination of nostalgia and modern convenience.
It's time for the Ford Bronco to create new memories. Redesigned with a nod to its iconic image, the 2021 Bronco provides you with capabilities for any adventure. Merging the iconic Bronco brand results in a dream vehicle for fans of the Ford brand.
Capabilities
True to its heritage, the 2021 Ford Bronco was designed with adventure in mind. With seven models to choose from, you can match your outdoor adventure spirit with the perfect choice.
The 2021 Bronco design is engineered for whatever terrain you need to cover on your adventures. Every Bronco features the Terrain Management System with G.O.A.T. (Goes Over Any Type of Terrain) Modes. Seven available trim levels determine the course of your adventure; Normal, Eco, Sport, Slippery, Mud Ruts/Sand, Rock Crawl, and Baja optimize your steering, handling, and powertrain response to allow you the best experience no matter what is in your path.
The 2021 Bronco is a Best-in-Class stand-out. Best-in-Class Breakover means you can navigate sharp drops, steep inclines, and rugged off-road terrain with ease. Driving a Ford Bronco frees you to take the unbeaten path. The available Best-in-Class Ground Clearance means you'll pass over any rock, branch, or stump in your way without worry.
Ask your sales team member about available Best-in-Class Water Fording. There's not a stream, creek, or puddle that the 2021 Ford Bronco can't conquer. High-mounted air intakes and Best-In-Class Ground Clearance combine to bring you a fording capability that can navigate whatever creeks or streams you need to pass through on your adventure. There is no trail too steep or rocky or path you can't take on in the 2021 Bronco.
Features
The Bronco's unique removable doors and roof open up your driving experience to the great outdoors. With accessible snap-push-and-lift functions, you can quickly transform your vehicle into an open-air adventure.
Maintaining control is the name of the game when navigating rugged terrain. Also, the Electronic Front and Rear Locking Differential make solid and steady stops something you can rely on in city traffic or winding county roads.
Three available trail technologies enhance your performance and increase ride satisfaction. Elevate your outdoor experience with trail technologies that work for you.
Trail Turn Assist. This is a class-exclusive feature that reduces the turn radius in low-speed, technical off-road environments that require a significant steering input. The driver is allowed way more fun by a reduction in effort to maneuver off-road terrain.

Trail Control. This feature relieves the stress of constantly adjusting throttle and braking when traveling off-road.

Trail-1 Pedal Drive. Enabling low-speed crawl and the ability to stop without using the brake pedal. This feature gives you more options out on the trek. When you lift off the accelerator, hydraulic brake torque is applied automatically, bringing the vehicle to a stop.
Ask your sales team member to take you through the technological features on the model in which you're most interested.
Safety
Your safety is our top priority. Ford's Co-Pilot360 Technology is a suite of driver-assist technologies standard throughout most of our makes and models. These technologies provide an extra set of "eyes'' to aid in your safe travels. Ask your sales team representative to walk you through the available safety features on the model in which you're most interested.
Safety features include:
Pre-Collision Assist with Automatic Emergency Braking. The system monitors traffic speeds with a camera and radar, and when these speeds drop to a rate that's lower than what you're traveling, you're warned to decrease your speed. If you're unable to react quickly, the system activates Emergency Braking.
Auto High Beam Lights. You might not think that headlamps are a safety measure, but that's because you haven't seen lights like these. Our system detects ambient light and adjusts your high and low beams accordingly. You won't blind oncoming traffic by accident ever again, and you'll always have the appropriate light in the darkness.
About Us
The 2021 Ford Bronco's release was worth the wait. Ford has delivered an amazing vehicle that blends the past with modern convenience. We are honored to offer the 2021 Ford Bronco to our customers.
Visit our dealership soon to see the Ford Bronco that everyone is talking about and take a test drive. Once you are behind the wheel of a new Bronco, you'll fall in love. Our sales team is happy to answer any questions and help make the purchase process as easy as possible.
If you are an adventure-seeker who respects the traditions of iconic brands, the Ford Bronco is for you! For more information on the 2021 Ford Bronco, visit our website today!