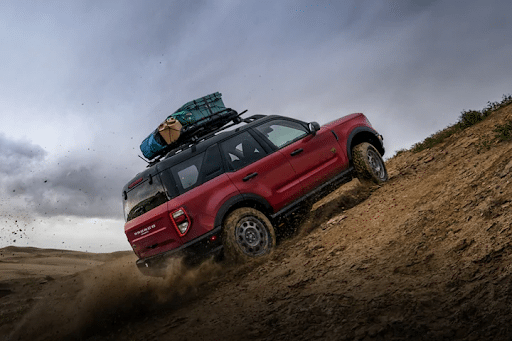 Are you feeling run down? Is the daily grind getting to you? Do you feel like you could use some good, old-fashioned fun? Our team at Desjardins Ford knows exactly what to prescribe for the summertime blues - a Bronco Sport!
With capabilities to get you wherever you want to go, features that bring the fun, and safety innovations that matter, you will find your fun in a Bronco Sport.
Capabilities
The Bronco Sport was built with fun in mind. If you're longing for adventure, for exploring, for traipsing into wilds unseen, the Bronco Sport can get you there.
Our standard 4x4 G.O.A.T. Modes (Goes Over Any type of Terrain) build your confidence when you're behind the wheel. Match your environment to the mode that suits you best: Sand, Slippery, Sport, Eco, and Normal, plus two extra modes for our Badlands model - Mud/Ruts and Rock Crawl. All you need is a seat belt. We'll get you there!
Along with G.O.A.T. Modes, our Advanced 4x4 with Twin-Clutch Rear-Drive Unit is engineered to balance off-road capability with on-road performance. If you find yourself in a situation where three of your wheels have no traction, this system can send torque to a single wheel. You'll feel the difference in handling and control when you need it most.
You'll find fun in every ride with the High-Performance, Off-Road, Stability, Suspension (H.O.S.S.) system, which helps you maintain handling while taking on the most rugged terrain. Highlighted by uniquely tuned front struts with hydraulic rebound stops designed to provide a quieter, less jarring off-road experience, this system works hard so you don't have to.
Features
If you're going to be adventuring, you've got to be tough. Our interiors are easy-to-clean, and most models come with a standard drain valve so you can hose out the floors and keep moving!
The safari-style roof allows lots of headroom and cargo room. It's tall enough that you can fit bikes inside without taking off the wheels. Our cargo area has best-in-class cargo volume on the Base, Big Bend, and Outer Banks models.
Save a little space in your overnight bag by using under-seat storage or the available Cargo Management System, which provides clever organizational tools - even shelving. Lots of amenities come standard within the cargo space, like built-in power outlets, powerful speakers, rear floodlights - even a bottle opener that's tucked into the liftgate.
Our Badlands model comes with 17-inch wheels, all-terrain tires, bash plates, and tough fenders. It's tough, capable, and engineered to get you all the places you want to be.
These are just a sampling of the outstanding features that are both standard and available across our Bronco Sport models. Ask your sales team member to show you features that will mean a lot when you're out in the wilds, like Breadcrumb Navigation, a Voice-Activated Touchscreen, and our 180-degree camera.
Safety
Ford's Co-Pilot360 driver-assistive technology suite is standard on the Bronco Sport. These anxiety-easing systems are engineered to scan and survey constantly. Our systems save lives. Safety features include:
Blind Spot Information System with Cross-Traffic Alert. When a vehicle enters your blind spot, we alert you by illuminating a small icon in the corresponding side-view mirror. You don't have to twist and turn and take your eyes off the road for even a second - and that's a big deal.
Cross-Traffic Alert. When you're in reverse, our systems scan for traffic on either side of your rear bumper. You're alerted if the way is unclear. This system really helps when pulling out of street parking or in a busy parking lot.
Lane-Keeping System. If you inadvertently veer out of your lane without using your turn indicator, we alert you. If you're unable to realign your vehicle, we gently pull you back to the middle of your lane.
Auto High-Beam Headlamps. These headlamps detect ambient light levels and adjust your high and low beams accordingly. You'll always have the perfect amount of light for dark highways and curves, without blinding oncoming traffic.
Ford has lots of other ways to keep you safe! Be sure to ask your sales team member to show you all the safety features on the model in which you're most interested.
About Us
Our team at Desjardins Ford in Ste-Foy works hard to ensure our friends and neighbors have access to only the best vehicles and service. We want your shopping experience to be fun and comfortable. Our professionally trained staff is available to answer questions and help you think through your options, no matter where you are in the car-buying process.
If you're looking for fun, we know the Bronco Sport delivers. Come look at the models and choose the one that suits your lifestyle best. Visit us on Avenue Watt and see for yourself!