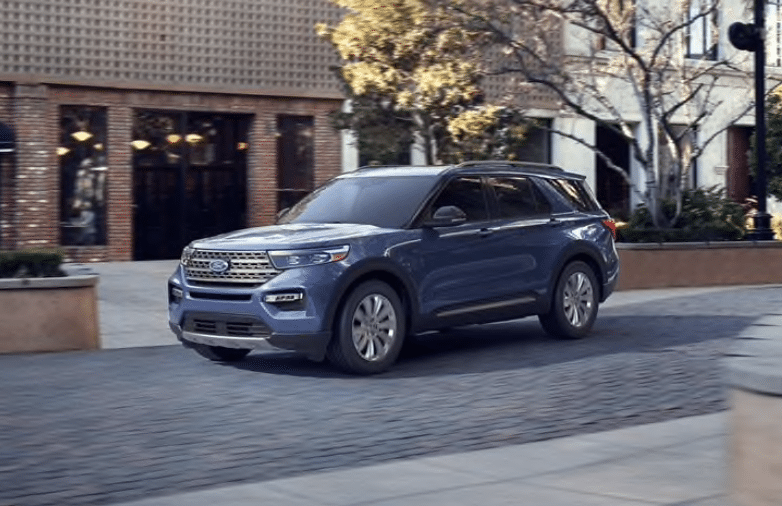 For many teens, learning how to drive is a rite of passage. For many parents, that rite of passage comes with a lot of anxiety.
As a parent, you want to make sure that your teen driver stays safe on the road, especially when you're not in the car with them to offer guidance.
At Desjardins Ford Ste-Foy, we understand your anxiety. We talk to a lot of parents who share the same concerns.
The good news is that Ford vehicles are built with safety in mind. Ford vehicles have a lot of features that can help your teen stay safe. We've listed some of our favorites below.
Lane-Keeping Assistance
Lane-keeping assistance is one of our favorite features here at Ford Ste-Foy. It's a great feature for any driver, but many teen drivers find it especially helpful.
Lane-keeping assistance helps drivers in a couple of ways. Usually, this feature alerts drivers, either through steering wheel vibration or a beeping sound, when they drift away from the center of their lane.
In some cases, lane-keeping assistance can even automatically steer drivers back into the center of their lane.
As an experienced driver, you may drift toward the outer edges of your lane when you get tired or distracted. Your teen driver, on the other hand, may do the same because they're still learning how to stay in control of the car.
Either way, lane-keeping assistance can give you and your teen some added safety on the road.
Automated Brakes
It's easy for drivers, especially teen drivers, to get distracted while out and about. On the plus side, teens have better reflexes than adults, which means that if they need to hit the brakes quickly, they can react fast.
Still, automated brakes can give your teen driver added support. These brakes come standard on many Ford vehicles here at Desjardins Ford Ste-Foy. They engage when the car detects an object in close range.
If the car in front of your teen's car comes to a sudden stop, the automated brakes in your teen's car can prevent a collision.
Rearview Cameras
One of the toughest parts of learning how to drive is learning how to work with rearview mirrors. While the mirrors do help, they don't always provide complete visibility. This can cause some extra challenges for younger drivers.
Rearview cameras can help keep your teen safe by providing them with better visibility. This way, your teen can get a near-complete view of what's behind them when they put the car into reverse.
Not only can this feature keep your teenager safe, but it can also keep their car safe from a lot of potential scrapes and dents.
Blind Spot Alerts
At Desjardins Ford Ste-Foy, we like blind spot alerts for the same reason we like rearview cameras: they provide extra awareness when the mirrors aren't enough.
Even if you've been driving for years, it's easy to forget about your blind spot. Worse, sometimes darkness or inclement weather can make your blind spot that much harder to see.
If the blind spot causes a challenge for older drivers, imagine how much tougher it is for teen drivers who don't have the same experience.
Thankfully, blind spot alerts can let your teen driver know when another car has moved into their blind spot. This way, they can change lanes with confidence, and you can get a little peace of mind.
Navigation
Though it's not technically a safety feature, navigation can help your teenager stay safe while driving. Sometimes getting lost is an adventure, but at other times, it's dangerous. Don't let your teen get into the latter situation.
With options like Alexa, Apple Maps, and Waze, your teenager can always have a way to get home, even when they find themselves in unfamiliar territory.
Voice-Activated Technology
Voice-activated technology is also not a safety feature per se, but it can protect your teenager from distraction-related accidents.
When drivers fiddle with the radio or search for directions on their phone, they take their eyes off the road and put themselves in danger.
With voice-activated technology, they don't have to do that. Instead, they can access the directions or entertainment that they need while keeping their eyes up and on the road.
Ford MyKey
Ford MyKey is an available feature that we're really excited about here at Ford Ste-Foy. The Ford MyKey system lets you pre-program driving options into your car.
For example, you can set volume limits on your car's speakers, and you can set speed limits on the car.
These limits can help your teenage driver develop good habits as they get used to being behind the wheel. Ford MyKey can give you some added control as a parent.
Desjardins Ford Ste-Foy
Want to learn more about safety options for your teen driver? We can help you here at Desjardins Ford Ste-Foy. Reach out to us now to learn more about your choices. Just like you, we want to help your new driver stay safe.