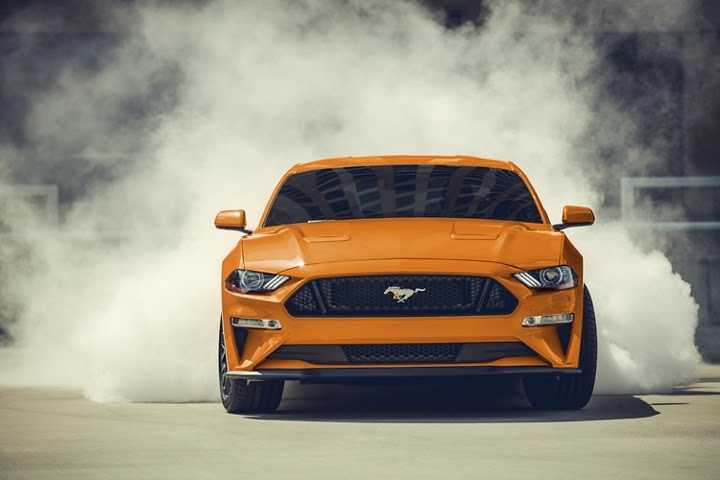 The employees at Desjardins Ford Ste-Foy need you to understand this is not your father's Mustang. Ford kept the classic Mustang silhouette, so you'll recognize the car out on the road the minute you see it, but everything else about the 2020 Mustang makes this car a modern powerhouse.
There are eleven models to choose from in the 2020 Mustang line. Six available high-powered engines mean that every single 2020 Mustang comes with high-performance built in. With nine unique trims, you've got options, from the fun and energetic GT Convertible to the 2020 Shelby GT500, host to the most power-dense supercharged V8 production engine in the world.
The 2020 Mustang GT Premium Fastback sits squarely in the middle price-point; however, even the base model, the 2020 Ecoboost Fastback, is a boss of a car. You can take each model as it comes standard, or you can choose from literally hundreds of features to satisfy your palate.
For the sake of detail, the standard model discussed in this article is the 2020 Mustang GT Premium Fastback.
Key Features
Active Valve Performance Exhaust System
The class-exclusive active valve performance exhaust lets you control the noise level of the Mustang exhaust. If you're leaving home early for work, select Quiet Start. Need a little zip when you leave work on Friday? Select Sport. Other settings include Normal and Track. This feature is available on all EcoBoost engines.
5.0 Ti-VCT V8
With port fuel direct injection, 460 horsepower, and 420lb-ft of tire-squealing torque, you won't be at a loss for power.
10 Speed SelectShift Automatic Transmission
The 10-speed SelectShift automatic transmission has a wide-ratio span and optimized gear spacing. This all-new gearbox helps improve responsiveness and performance during acceleration.
Exterior
Although this car is so far advanced from an old school Mustang (and there's nothing wrong with those, either), the Mustang silhouette is immediately recognizable. In addition to color schemes that are unique only to Ford, standard exterior features include hood vents, Easy Fuel capless fuel filter, daytime running lights, Pony projection lights, LED foglamps, raised blade decklid spoiler, and more. Optional features include Decklid spoiler delete, pedestal rear spoiler, and performance rear wing.
Interior
Welcome to the cockpit. Once you strap into the driver's seat of a 2020 Mustang, you'll never want to leave. Available amenities include heated and cooled seats, an accent-stitched center console, and a heated steering wheel. With the push-button start, you truly have power at your fingertips.
Smart Technology
Ford has all the latest smart technology at your fingertips. With options like SYNC 3, Ford+Alexa, Ford WAZE, and available Sirius XM radio, you choose which fits your personality best. Either way, ask about the availability of voice-command technology so that your hands never leave the wheel.
Standard Convenience and Comfort Features
There are 28 standard convenience and comfort features on the 2020 Mustang GT Premium Fastback. Some of these include aluminum foot pedals, automatic lights, leather-wrapped parking brake handle, leather-wrapped steering wheel with cruise and audio controls, and a tilt/telescoping steering column.
Some of our favorite standard features are:
MyKey is one of our favorite Ford safety features, especially for first-time drivers. Once you've enabled MyKey, several safety features automatically install. Seat belt reminders will alert and audio systems will mute until front seat belts are fastened. The low fuel light warns earlier so that the driver has a longer amount of time to refuel. If your car is equipped with driver-assist features, like parking aides, these will be turned on. There are configurable settings, too, including setting a vehicle speed limit, limiting the audio of the sound system to 45%, AdvanceTrac, 911 assist, and Do Not Disturb.
Although it's always a good idea to turn your head and check behind you first, the Rearview Camera helps when navigating backward - especially into a tight parking spot. Not only are you offered a visual of exactly what is behind you, but you also get navigation lines to help you line up the vehicle. You'll never back over the garbage can again!
Performance metrics are instantly shown in the instrument cluster. Accelerometer displays lateral and longitudinal g-forces, acceleration and lap times, plus automatic and countdown starts.
In addition to these favorites, Ford offers 12 additional optional comfort and convenience features.
The team at Desjardins Ford Ste-Foy is waiting to buckle you in for a 2020 Mustang test drive you won't soon forget. With personalized financing packages and competitive pricing, our professional staff knows how to help you find exactly what you're looking for. Come visit us today!